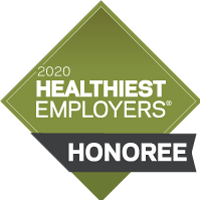 CHICAGO, IL (October 26, 2020) Advanced Group, an industry-leading diversified professional staffing, consulting, and outsourcing organization, has been named a finalist for Crain's Content Studio, a division of Crain's Chicago Business, and Cigna (NYSE: CI) 2020 Illinois' Healthiest Employers Awards, recognizing companies that make workplace wellness a priority.
Advanced Group highlighted their benefits package, vendor offerings, and their Well-Being Program incorporating multiple aspects of physical, financial, mental, emotional and social well-being. Their Well-Being Committee encourages employees in their authentic, personal wellness journeys. Advanced Group's investment in well-being recognizes dedication with monetary awards to offset monthly program costs of the employee's choice (health club, yoga class, meditation apps), financial incentives to stop smoking, reimbursement for organized walk/run events, monthly guest speakers for learning opportunities, book clubs, and challenge prizes throughout the year.
"Well-Being at Advanced Group is core to who we are and how we show up at work – always celebrating our individuality and constantly evolving," said Mary Finley, Executive Vice President of Human Resources. "As work and life become more and more integrated, being able to focus on yourself, your personal development, and your well-being at work, and receiving incentives when you do, helps to ensure our employees have the time necessary to achieve their personal well-being goals."
This is the fifth year of Cigna's sponsorship of the Illinois' Healthiest Employers Awards, a corporate wellness program that encourages healthier lifestyles through biometric, fitness, nutrition and other health-related educational advice that emphasize preventing illness and prolonging life. Over 8,000 employers of all sizes in 45 cities participate in the program nationwide.
The 9th annual awards were presented virtually via a webcast hosted by Crain's Content Studio on Tuesday, October 6. For more information on the Healthiest Employers Award program, please visit ChicagoBusiness.com
About Advanced Group
Advanced Group provides expertise in talent acquisition and management, consulting, outsourcing, and professional services. Founded in 1988, our businesses include Advanced Clinical, Advanced Resources, Advanced RPO, and WunderLand Group. To learn more, visit www.advancedgroup.com.
###
Media Contact
Jen Iliff
Vice President, Marketing
jiliff@advancedgroup.com
P 720.409.4341