Be The Difference
At Advanced Group, we commit to Make a Difference for our clients, talent, communities and each other. Our Be The Difference Committees take specific actions to address needs across Well-Being, Corporate Responsibility and Diversity & Inclusion. Members of the Be The Difference Committee are known as Difference Makers. Difference Makers aren't satisfied with the status quo and see possibilities to make a difference at every turn.
Diversity, Equity, & Inclusion
"At Advanced Group, our commitment to diversity and inclusion in every part of our organization is crucial to fulfilling our mission and demonstrating our REAL values. A diverse staff allows us to effectively draw on different perspectives and enhance our efficiency and effectiveness. Diversity thereby strengthens the legitimacy and relevance of Advanced Group in delivering services to our clients. We seek talented, creative individuals from a variety of backgrounds and cultures to work with us. It is our priority that our workplace be inclusive, welcoming of diverse ideas, and appreciative of valuable experience. As the CEO, I recognize that individual differences represent a variety of opportunities for Advanced Group. We hold ourselves, our management team, and all employees accountable for promoting an environment that values these differences and capitalizes on these opportunities for the ultimate benefit of our clients, talent out working, and employees." Leo Sheridan, CEO
The Diversity & Inclusion Committee and sub-committees focus on Training, Marketing, and Awareness — Our mission is to support a strong and growing organization by inspiring the D&I conversation, driving change in the organization, and creating an environment where people from all diverse backgrounds feel safe and embraced. We will recognize, reflect, and promote the empowerment of unbiased, diverse stories both inside and outside of our organization.
Advancing Futures
The Advancing Futures Committee is the philanthropic arm of Advanced Group. Established in early 2015, our mission is to "make a difference" in the lives of our staff, consultants out working and our communities. This mission is realized through the ongoing organization and participation of volunteer events, providing financial support to charitable organizations, and supporting Advanced Group employees by helping them achieve their own philanthropic goals. Our committee also sponsors our Advanced Community Works program, which recognizes individual employee volunteer efforts. Advanced Community Works provides two rewards: rewarding community organizations with monetary donations, and rewarding our employees with additional paid time off for volunteer efforts.
Advanced Community Works
Making a difference in the lives of others goes well beyond our office walls. We share a spirit of giving and inspire each other to put our time and talent to use in a way that impacts the lives of people around us. Advanced Community Works encourages our employees to take a day's paid time away from work to volunteer and earn a monetary match for the charity of their choice. As an organization, Advanced Group cares deeply about providing services for underprivileged youth and adults, supporting more positive futures and communities. Advanced Community Works sponsors volunteer opportunities with the following programs:
Cristo Rey Network: A thriving association of high schools that utilize an innovative work-study program to provide affordable education exclusively to families that have limited financial resources.
Cara: Prepares and inspires motivated individuals to break the cycle of homelessness and poverty, transform their lives, strengthen our communities and forge paths to real and lasting success.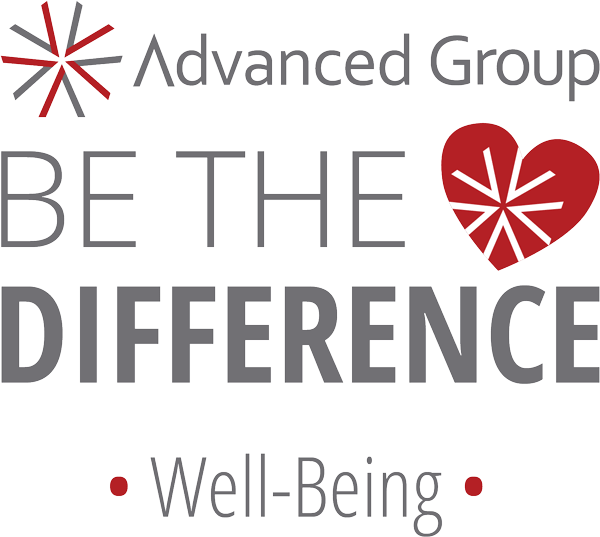 Well-Being
At Advanced Group, your Well-Being is our priority. Our mission is to support and encourage employees in their authentic well-being journeys. Our vision is to make a difference everyday in the well-being of our employees. Along with our formal Employee Assistance Program, we sponsor challenges, reimbursement opportunities, and informational webinars to support our Associates in their quest to maintain a sense of well-being.­­