Our History
Advanced Group brings together Advanced Clinical, Advanced Resources, Advanced RPO, and WunderLand Group. We started in 1988 as a small but mighty Chicago-based staffing agency and over the last few decades have expanded our reach and expertise into new markets and geographies. Operating across the US and Europe, Advanced Group serves our clients and talent across professional disciplines such as technology, finance & accounting, digital marketing, creative services, human resources, office & operations, clinical development, and healthcare. Our leadership team brings together industry experts who lead by example and make Advanced Group a best-in-class, award winning organization.
Mission
It is our mission and passion to make a difference, every day, for our clients, our candidates, each other, and our communities. We are dedicated to sharing our time and resources to make this world a better place and do so through our client and candidate relationships, as well as our Community Works programs.
Vision
We strive to make our vision a reality: to be the most respected firm in our industry. We may not be the biggest, but that's okay - we find our purpose in how we work and how we show up for our clients, our candidates, and each other. We believe respect is earned and breeds trust. Our aim is to be your trusted partner in achieving your goals.
Values
Our passion and purpose come to life in our REAL values: Respect, Excellence, Accountability, and Leadership. Here at Advanced Group, we Keep it REAL by living our values in all we do. Our culture brings out the best in each of us, encouraging us all to grow and develop, making this an exceptional place to work and achieve great things together.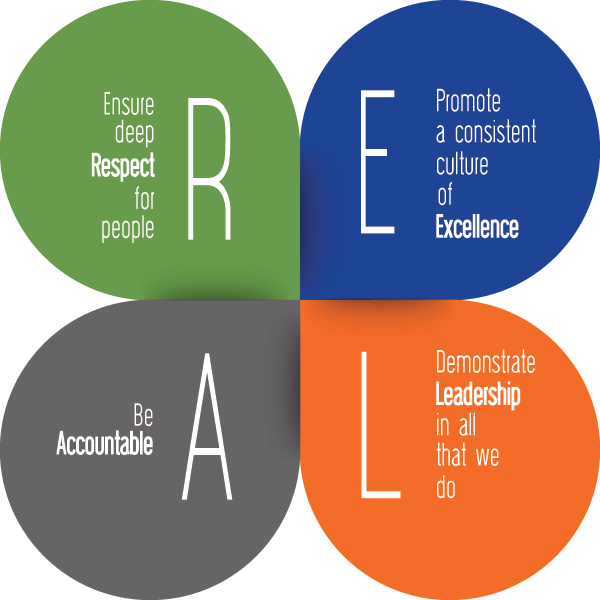 Advanced Community Works
Making a difference in the lives of others goes well beyond our office walls. We share a spirit of giving and inspire each other to put our time and talent to use in a way that impacts the lives of people around us. Advanced Community Works encourages our employees to take a day's paid time away from work to volunteer and earn a monetary match for the charity of their choice.
As an organization, Advanced Group cares deeply about providing services for underprivileged youth and adults, supporting more positive futures and communities. Advanced Community Works sponsors volunteer opportunities with the following programs:
Cristo Rey Network: A thriving association of high schools that utilize an innovative work-study program to provide affordable education exclusively to families that have limited financial resources.
Cara: Prepares and inspires motivated individuals to break the cycle of homelessness and poverty, transform their lives, strengthen our communities and forge paths to real and lasting success.
Horizons for Youth: A program that provides low-income Chicago youth with scholarships, mentoring, and a support community. Horizons for Youth contributes a significant portion of each participant's educational needs to attend a Chicago area private school. 
Rainbow Days: Gives children hope for a promising future by providing them with skills and support they need to make healthy choices, stay drug free and believe they have a purpose.
Commitment to Diversity
At Advanced Group, our commitment to diversity and inclusion in every part of our organization is crucial to fulfilling our mission and demonstrating our REAL values.  A diverse staff allows us to effectively draw on different perspectives and enhance our efficiency and effectiveness. Diversity thereby strengthens the legitimacy and relevance of Advanced Group in delivering services to our clients. We seek talented, creative individuals from a variety of backgrounds and cultures to work with us. It is our priority that our workplace be inclusive, welcoming of diverse ideas and appreciative of valuable experience.
As the CEO, I recognize that individual differences represent a variety of opportunities for Advanced Group. We hold ourselves, our management team and all employees accountable for promoting an environment that values these differences and capitalizes on these opportunities for the ultimate benefit of our clients, talent out working, and employees.
-Leo Sheridan, CEO Advanced​ Group
Industry Recognition
At Advanced Group we strive for excellence in everything we do. We are honored to have been recognized recently with the following awards.